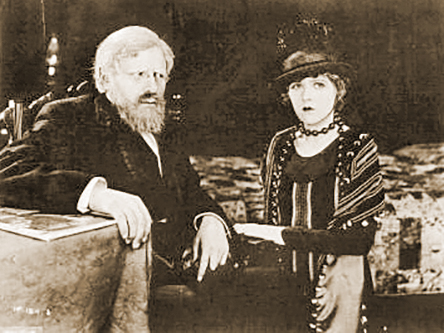 Mary Pickford (right).
Photograph: Silent Era image collection.


The Hoodlum


(1919) American
B&W : Seven reels / 6462 feet
Directed by Sidney A. Franklin (Sidney Franklin)

Cast: Mary Pickford [Amy Burke], Ralph Lewis [Alexander Guthrie], Kenneth Harlan [John Graham], Melvin Messenger [Dish Lowry], Dwight Crittenden [John Burke], Aggie Herring [Nora], Andrew Arbuckle [Pat O'Shaughnessy], Max Davidson [Abram Isaacs], Paul Mullen [pugilist], Buddie Messenger, Mrs. Lee

The Mary Pickford Company production; distributed by First National Exhibitors' Circuit, Incorporated. / Produced by Mary Pickford. From the novel Burkeses Amy by Julie Matilde Lippman. Art direction by Max Parker. Assistant director, Alfred L. Werker. Cinematography by Charles Rosher. Edited by Edward McDermott. / © 18 August 1919 by Mary Pickford and First National Exhibitors' Circuit, Incorporated [LP14081]. Released 1 September 1919. / Standard 35mm spherical 1.37:1 format.

Comedy-Drama.

Synopsis: Synopsis available in AFI-F1 n. F1.2036.

Survival status: Prints exist in the International Museum of Photography and Film at George Eastman House film archive [35mm positive]; and in the Mary Pickford Institute for Film Education film collection [35mm duplicate negative, 35mm duplicate positive].

Current rights holder: Public domain.

Keywords: USA: New York: New York

Listing updated: 23 January 2013.

References: AFI-F1 n. F1.2036; Brownlow-Parade p. 232; Eyman-Pickford p. 331; Lee-Not pp. 77-79 : Website-GEH; Website-Pickford.

Home video: DVD.