A growing source of silent era film information.
This listing is from The Progressive Silent Film List by Carl Bennett.
Copyright © 1999-2014 by Carl Bennett and the Silent Era Company.
All Rights Reserved.

About This Listing / Report Omissions or Errors in This Listing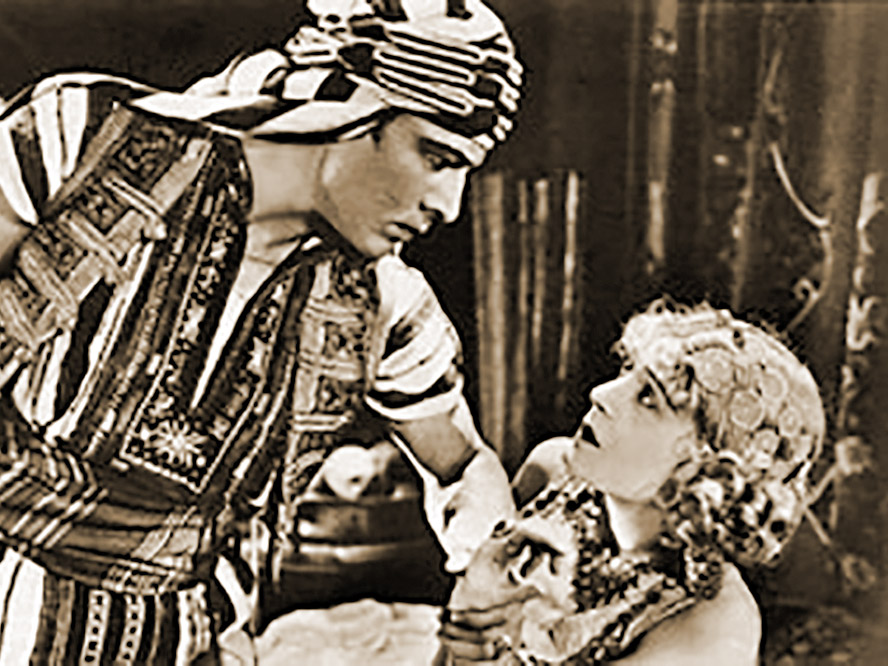 Rudolph Valentino and Vilma Banky.
Photograph: Silent Era image collection.

The Son of the Sheik


(1926) American
B&W : Seven reels / 6685 feet
Directed by George Fitzmaurice

Cast: Rudolph Valentino [Ahmed; and the Sheik, his father], Vilma Banky [Yasmin], George Fawcett [André, her father], Montagu Love [Gahbah, the moor], Karl Dane [Ramadan], Binunsky Hyman [Pincher, a mountebank], Bull Montana [Ali, a mountebank], Agnes Ayres [Diana, Ahmed's mother], Charles Requa, William Donovan, Erwin Connelly, Jaddin the horse

Feature Productions, Incorporated, production; distributed by United Artists Corporation. / Produced by John W. Considine Jr. Scenario by Frances Marion and Fred De Gresac, from the novel The Son of the Sheik by E.M. Hull (Edith Maude Hull). Production design by William Cameron Menzies. Cinematography by George Barnes. Intertitles by George Marion Jr. Presented by Emil C. Jensen. / © 24 August 1926 by Feature Productions, Incorporated [LP23046]. Premiered 9 July 1926 in Los Angeles, California. Released 5 September 1926. / Standard 35mm spherical 1.37:1 format. / Valentino's last film, as he had died on 23 August 1926. The film was released after Valentino's death. The film was rereleased by Artcinema Associates, Incorporated. Rerelease music and orchestations by Arthur H. Gutman. Turbulent music sequences by Gerard Carbonara. Rerelease music synchronized and arranged by James C. Bradford. The film's copyright was renewed by Artcinema Associates, Incorporated, in 1954.

Drama: Romance.

Survival status: Prints exist in the film holdings of Box 5 (Paul Killiam collection) [35mm release positive (1970 reedited, new intertitles, sound version, © 17 June 1985 by Paul Killiam (transferred to Box 5) [PA-311-406])]; in the film holdings of the Cohen Media Group (Raymond Rohauer collection) [35mm positive]; and in private film collections [16mm reduction positives, 8mm reduction positives].

Current rights holder: Box 5 (Paul Killiam collection prints; motion picture rights), and the Cohen Media Group (Raymond Rohauer collection prints; literary rights).

Keywords: Animals: Horses - Arabs - Deserts - Dual roles - Entertainers: Dancers - Fights: Sword - Gold - Money: Coins - Sand - Sheiks - Weapons: Swords

Listing updated: 2 July 2012.

References: Film credits, film viewing : Bohn-Light p. 96; Bondanella-Hollywood pp. 134, 138, 142-144; Brownlow-Parade p. 335; Carroll-Matinee p. 130; Dardis-Keaton p. 137; Everson-American pp. 145, 171, 291; Higashi-Virgins p. 123; Jewell-RKO p. 54; Kerr-Silent p. 30; Kobal-Fifty p. 33; Lahue-Collecting pp. 27, 48, 131; Leish-Cinema p. 56; Limbacher-Feature p. 228; Maltin-Guide p. 1184; MoPicAlmanac-1929 p. 11; Quirk-Colman p. 107; Quirk-Powell p. 80; Shipman-Cinema p. 92; Sinyard-Silent pp. 4, 93; Sklar-Movie p. 100; Smith-Colman pp. 31-32, 79; Sweeney-Coming pp. 92, 95; Vermilye-Twenties p. 128.

Home video: DVD.