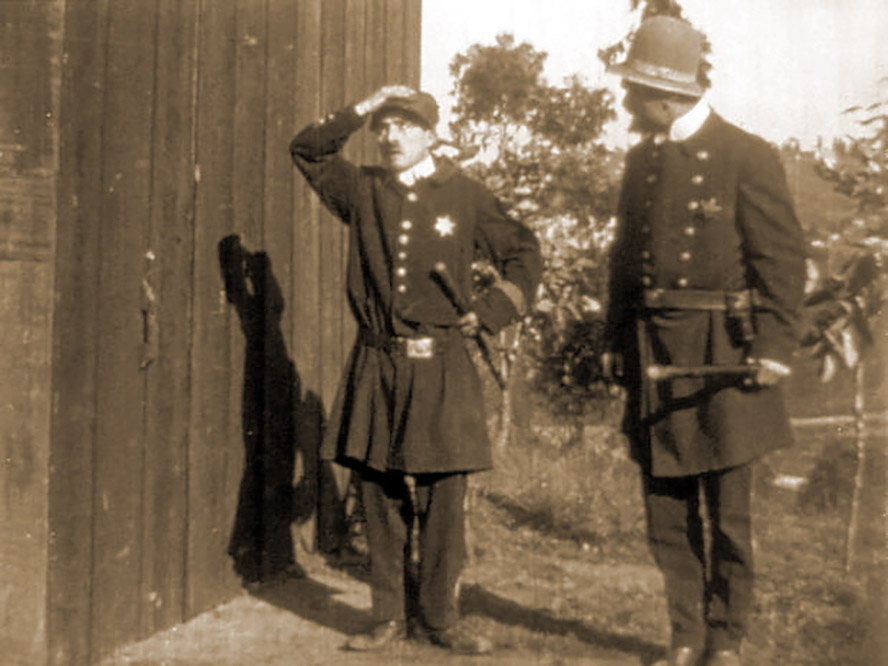 Charles Chaplin (center).
Frame enlargement: courtesy Paul E. Gierucki of CineMuseum.


A Thief Catcher


Also known as His Regular Job in the USA : [The Thief Catcher]
(1914) American
B&W : One reel
Directed by Ford Sterling

Cast: Ford Sterling, Edgar Kennedy [a yeggman (with a moustache)], Mack Swain [a yeggman (without a moustache)], Charles Chaplin [a policeman], William Hauber [a policeman], George Jeske [a policeman], Rube Miller [a policeman], [?] Alice Davenport? [the woman at the clothesline]

The Keystone Film Company production; distributed by Mutual Film Corporation. / No copyright registration. Released 19 February 1914. / Standard 35mm spherical 1.37:1 format. / Working title: The Dogs. The production was shot 15-26 January 1914. [?] Completed or shipped? on 29 January 1914. The film was rereleased in the USA as His Regular Job by Tower Film Corporation circa 1918. The film was recovered by Paul E. Gierucki at a Michigan antique sale in June 2010.

Comedy.

Survival status: Print exists in the private film collection of Paul E. Gierucki [1918 Tower Film Corporation rerelease version (incomplete 16mm reduction positive)].

Current rights holder: Public domain.

Keywords: Animals: Dogs - Cameras - Criminals - Keystone Kops - Law: Enforcement: Police: Policemen - Weapons: Guns

Listing updated: 22 September 2012.

References: Film credit, film viewing : Lahue-Kops p. 144; Lahue-Mack p. 294 : Website-IMDb.

Home video: DVD.